Customer Status
Customer Status Master Files define a status that a customer can be labeled. The status will help identify the type of customer and will be used in future upgrades with the Customer Relationship Module.
To access Customer Status from the menu bar of the main TeleTracker Online screen, click Master Files, then Customer Status. To create a new Customer Status, click on New button located on the toolbar. To open/edit an existing Code, select it from the Master File list and click the Open button.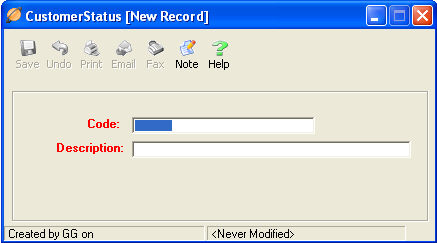 Code

: Enter a Code for the Customer Status.

Description

: Further describe the Code within the Description field.
Customer Status Examples: Good Credit, Bad Credit, Gold Member, Bronze Member.
-- Activation Types -- Customer Status -- Locations -- Users -- Disclaimers -- Terms -- Lead Sources -- General Ledger -- Reasons --
-- Revenue Departments -- Sales Tax -- Salesperson -- Coupons -- Customers -- Vendor -- Service Provider -- Product --
-- Contact Us --